LUNULA LASER
Contact us to arrange a consultation on 0117 9071113 or by email info@sallyvarney.co.uk
EXCITING NEWS FOR BRISTOL AND THE SOUTH WEST
The SALLY VARNEY CLINIC here in Redland, Bristol offers a safe and effective treatment in the fight against fungal nail infections.
Fungal infections of toe nails (onychomycosis) can be unsightly and may cause discomfort due to thickening and discolouration. It can even have a distinct smell and cause embarrassment and self-consciousness for sufferers. The nails may be painful to pressure and a constant source of reinfection of the skin of the foot.
TREATMENT OF FUNGAL NAILS
Traditionally fungal nail infections have been treated with paint on solutions which can be ineffective and slow or oral medication with the associated unwanted side effects. There is a certain frustration for medical professionals with the lack of successful, safe treatments available. That is until the introduction of LUNULA LASER which was medically approved for use in the UK last July.
LUNULA LASER
Lunula Laser is the revolutionary low-level laser therapy bringing new hope to people suffering from onychomycosis. Safe and effective Lunula Laser poses none of the risks and harmful side effects of oral anti-fungal medications and is painless, unlike other laser treatments.
Lunula is a low level laser informally described as a 'cold laser' since it does not rely on heat. The two wavelengths employed work differently. One kills the fungus by reacting with its cell wall and the other stimulates the immune reaction to localised fungus in the nail. The laser is able to target these fungal cells directly and have no detrimental effect on healthy skin or nail and requires no anaesthetic. This cold laser treatment is nonsurgical and there is no recovery period or effect on activity following treatment.
Contact us to arrange a consultation on 0117 9071113 or by email info@sallyvarney.co.uk
RESULTS
Once significant clearance of the nail is seen at the base of the nail, the previously damaged and infected nail will then grow out. It often takes at least 18 months for total nail regrowth. We are able to treat all cases from minor involvement to severe cases with no restriction on age or medical status.
BEFORE AND AFTER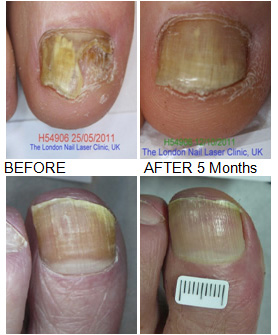 COSTS INVOLVED
CONSULTATION FEES
Initial consultation involves a thorough explanation of the process involved together with debridement of affected nails if desired. Photographic documentation, assessment of infected nails and treatment plan recommendations are carried out by our experienced team here at the Sally Varney Clinic.
Review consultations are recommended at 3 and 6 months where further photographic documentation, review and treatment progress discussed with on going treatment planning to enable us to provide best possible clinical outcomes.
All consultations including review consultations with our principal podiatrist are charged at £45.00
PACKAGE A – FOR MILD TO MODERATE INFECTION OF TOE NAILS
Total cost for 6 Lunula Cold Laser Treatments:  £500.00

Please note: each treatment consists of 2 x 12 minute Lunula cycles, one for each foot.
PACKAGE B – FOR MODERATE TO HEAVY INFECTION OF TOE NAILS

This package is highly recommended for those with more heavily infected toenails.
Total cost for 10 Lunula Cold Laser Treatments: £700.00

Please note: each treatment consists of 2 x 12 minute Lunula cycles, one for each foot.
Any additional Lunula treatments are priced at £50 for 1 x 12 minute cycle.
Contact us to arrange a consultation on 0117 9071113 or by email info@sallyvarney.co.uk
Post treatment products are provided at the commencement of therapy in order to reduce the risk of reinfection from skin or footwear which are included in these costs. We also stock anitfungal/antibacterial shoe spray which is recommended to sanitise all footwear throughout treatment.
We would also be happy to provide you with a quote for any alternative treatment options you may require.  If you would like to book an appointment to discuss or find out more, please call us on 0117 9071113 and ask for Sally or Emily.